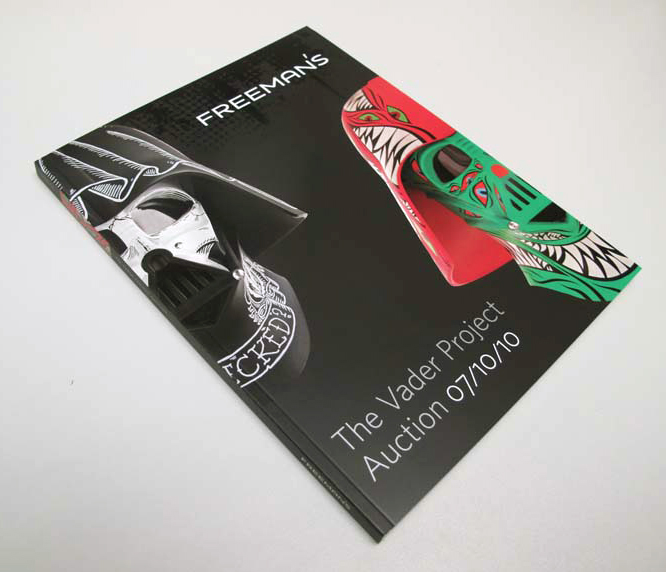 Order The Vader Project Catalog
click here
Freeman's Philadelphia Auction
Exhibition July 5 – 9
10:00am – 6:00pm daily
1808 Chestnut Street
Philadelphia, Pennsylvania
Auction July 10, 2010, 12:00pm Eastern Time
Freeman's Auction House
Philadelphia, Pennsylvania
www.freemansauction.com
This auction is not sponsored or endorsed by Lucasfilm, and has no relationship with Lucasfilm.
StarWars and all related intellectual property is © or ® 2010 Lucasfilm Ltd. & TM. All rights reserved.
The 100 Helmets of THE VADER PROJECT are ready for Auction!
Following the successful 10-day Los Angeles Auction Preview, The Vader Project is ready for auction. The iconic collection features 100 Darth Vader Helmets re-imagined by today's most notable artists.
The Vader Project will be on display at Freeman's Auctioneers and Appraisers in Philadelphia, Pennsylvania (July 5-9) for the final opportunity to view the helmets in person before they are sold at auction (July 10). "The result is astounding" said Simeon Lipman, Pop Culture Specialist at Freeman's. "The sale will give members of the public the chance to purchase unique artworks made from these iconic symbols of the movie industry by a number of well known artists including Shag, Marc Ecko, Tim Biskup, Frank Kozik and many more." The Freeman's Auction will take place July 10, 2010 at 12:00pm Eastern Time at Freeman's Auction House in Philadelphia, Pennsylvania preceded by a 5-day exhibition there July 5-9. www.freemansauction.com
To watch the auction LIVE online go to:
http://www.artfact.com
Collectors and art connoisseurs worldwide will have the opportunity to bid online at Freeman's website, www.freemansauction.com. Most bidding will begin at $1,500. For more information about how to participate in the auction, please visit "How to Buy at Auction" at www.freemansauction.com/buying.asp.
DKE Toys in conjunction with Freeman's produced a 200-plus page, full-color, limited edition catalog that features all 100 helmets, artist bios and some history on the project. It is available now at thevaderproject.com.
To view the complete catalog online go to: http://issuu.com/freemansauction/docs/1375
Curated and produced by Dov Kelemer and Sarah Jo Marks of DKE Toys (www.dketoys.com), The Vader Project features 100 of the best underground artists and designers working today. "From a simple idea in 2005 to a record-setting exhibition in 2009, it's time for our child to venture forth into the world," Kelemer and Marks said. "We are pleased to have partnered with Freeman's to make these fine pieces of art available to the public for the first time."
For this unique project, each artist customized a 1:1 scale authentic prop replica of the actual Darth Vader helmet featured in the STAR WARS™ films. Notable artists involved with the project include: Shag, Peter Kuper, Jermaine Rogers, Gary Baseman, BXH, Tim Biskup, The Pizz, Dalek, Paul Frank, Ron English, Jeff Soto, Michelle Valigura, Frank Kozik, Plasticgod, Simone Legno - Tokidoki, Bill McMullen, Secret Base, Joe Ledbetter, Alex Pardee, Suckadelic, Cameron Tiede, Mister Cartoon, Marc Ecko, and Amanda Visell.
Since its premiere in 2007, The Vader Project has toured the world. The collection launched in May 2007 at the Star Wars Celebration IV event in Los Angeles, and traveled internationally to Europe in July 2007 and Japan in July 2008. Most recently The Vader Project was on display from February 13 - May 3, 2009 at the Andy Warhol Museum in Pittsburgh, Pennsylvania.
Artists involved with the project include:
Troy Alders
Andrew Brandou
Chino
Dalek
Tristan Eaton & Azk One - Thunderdog Studios
FERG
Paul Frank
Joe Hahn
Sun-MinKim & David Horvath
David S. Krys - DSK Designs
Wade Lageose - Lageose Design
Nanospore
Alex Pardee
The Pizz
© Copyright 2005-2023 The Vader Project & TheVaderProject.com · All Rights Reserved