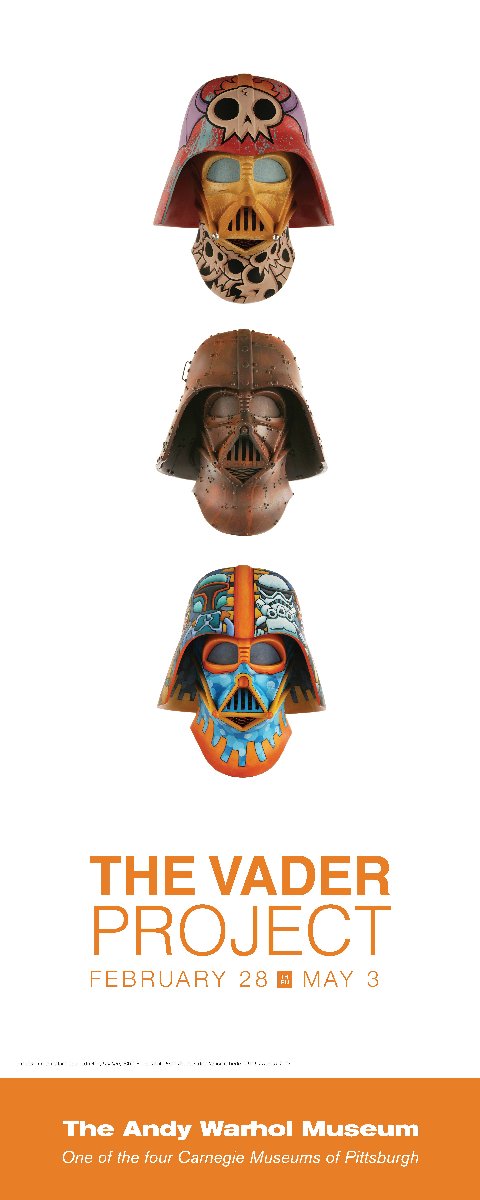 100 Reimagined Darth Vader helmets complete
THE VADER PROJECT

Premiering at The Andy Warhol Museum in Pittsburgh, Pennsylvania
Show runs February 13 – May 3, 2009
The Vader Project - a reimagining of the iconic Darth Vader helmet by some of today's hottest underground and pop surrealist painters, artists and designers - makes its museum premiere and will be on display February 13 – May 3, 2009 at The Andy Warhol Museum in Pittsburgh Pennsylvania. www.warhol.org
The Vader Project is curated by Dov Kelemer & Sarah Jo Marks of DKE Toys. Kelemer and Marks gathered 100 contemporary artists. Each artist was given a 1:1 scale authentic prop replica of the actual Darth Vader helmet used in the STAR WARS™ films. Each helmet served as a blank slate for each artist to paint, design, mash up and customize.
Featuring work by Shag, Peter Kuper, Attaboy, Gary Baseman, Tim Biskup, Dalek, Paul Frank, Ron English, Jeff Soto, Michelle Valigura, Frank Kozik, Wade Lageose, Joe Ledbetter, Alex Pardee, Suckadelic, Cameron Tiede, Mister Cartoon, Marc Ecko, Amanda Visell and many more, The Vader Project provided an opportunity for artists to use one of the most iconic pop culture characters in film history as their canvas.
"It's because of trailblazing artists like Andy Warhol that The Vader Project can even exist today. We couldn't be more honored to be showcasing The Vader Project at the Warhol." says Kelemer.
The Vader Project originally premiered at Star Wars Celebration IV in Los Angeles in May 2007. From there it traveled to Star Wars Celebration Europe in London in June 2007. July 2007 brought 10 new helmets to the Star Wars Pavilion at the famed San Diego Comi-Con International. Then in July 2008, 13 Japanese artists joined forces with the existing Vader Project when their helmets premiered at Star Wars Celebration Japan.
Dov Kelemer & Sarah Jo Marks are Co-Curators The Vader Project and Co-Founders of DKE Toys, one of the largest designer vinyl and art-toy distributors in the world, exclusively representing over 100 companies, artists, and designers. Kelemer started the business selling Star Wars memorabilia more than 15 years ago. With The Vader Project he has finally found a way to meld both his passions. Marks divides her time between managing DKE art exhibitions and all DKE promotions including STUFFED: a plush food show. www.dketoys.com
For further questions, to discuss interview opportunities or for press photos please call DKE Toys at 818.765.3500.
STAR WARS™ and related properties are trademarks and/or copyrights, in the United States and other countries, of Lucasfilm Ltd. and/or its affiliates. TM & © Lucasfilm Ltd. All rights reserved. All other trademarks and trade names are properties of their respective owners.
Artists involved with the project include:
Troy Alders
Andrew Brandou
Chino
Dalek
Tristan Eaton & Azk One - Thunderdog Studios
FERG
Paul Frank
Joe Hahn
Sun-MinKim & David Horvath
David S. Krys - DSK Designs
Wade Lageose - Lageose Design
Nanospore
Alex Pardee
The Pizz
© Copyright 2005-2023 The Vader Project & TheVaderProject.com · All Rights Reserved