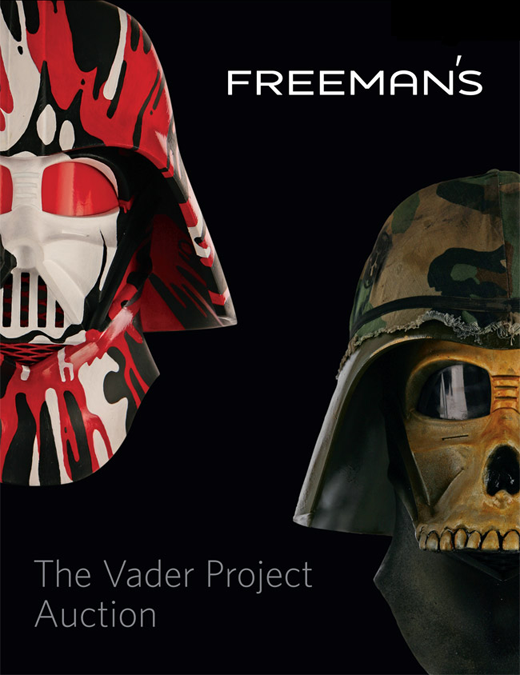 ORDER VADER PROJECT CATALOG
CLICK HERE
The Vader Project

100 helmets traveled through 8 exhibitions, 3 countries and 1 groundbreaking auction to live on in a beautiful full-color catalog.

The Vader Project is a reimagining of the iconic Darth Vader helmet curated by Dov Kelemer and Sarah Jo Marks of DKE Toys (dketoys.com). Kelemer and Marks gathered close to 100 of the hottest underground and pop surrealist painters, artists, and designers to participate. For this unique project each artist was given a 1:1 scale authentic prop replica of the actual Darth Vader helmet used in the STAR WARS™ films. The helmets served as a blank canvas for each artist to paint, design, mash up, and customize.
Artists involved with the project include:

Josh Agle (Shag) Troy Alders Kii Arens Attaboy Anthony Ausgang Axis Aye Jay
Gary Baseman Andrew Bell Tim Biskup Mark Bodnar BXH HIKARU Andrew Brandou
Buff Monster Mister Cartoon Chino mr clement Robbie Conal CRASH Steven Daily
Dalek Dehara DGPH Cam de Leon Devilrobots Yoko d'Holbachie Bob Dob
Tristan Eaton & Azk One - Thunderdog Studios Marc Ecko Eelus Ron English
FERG David Flores Brian Flynn - Hybrid Design Paul Frank Gargamel Huck Gee
Fawn Gehweiler Mike Giant Girls Drawin Girls Dan Goodsell Gris Grimly
Joe Hahn Haze XXL Jesse Hernandez Derek Hess Itokin Park Jeremyville kaNO
Mori Katsura- RealxHead Sun-MinKim & David Horvath Jim Koch
Frank Kozik David S. Krys - DSK Designs Peter Kuper Wade Lageose - Lageose Design
Joe Ledbetter Simone Legno - Tokidoki Mad Mad Barbarians Madtwiinz Marka27 Mars-1
Bill McMullen Melvins Mori Chack Brian Morris Nanospore Niagara
Mitch O'Connell olive47 Martin Ontiveros Estevan Oriol Alex Pardee The Pizz
Plasticgod PlaysKewl Dave Pressler Ragnar Jermaine Rogers
Erick Scarecrow Secret Base J. Otto Seibold Sket-One Shawn Smith Winston Smith
Jeff Soto Damon Soule Bwana Spoons Jophen Stein Suckadelic T9G Gary Taxali
Cameron Tiede Touma UrbanMedium Usugrow Michelle Valigura VanBeater
Amanda Visell
If you are interested in owning a customized Darth Vader helmet from this unique collection please contact DKE Toys directly at 818-765-3500.
Full color, auction catalogs featuring all 100 helmets, artist bios, show info and more are still available.
The Vader Project Exhibitions:

May 24-28, 2007
Star Wars Celebration IV
Los Angeles Convention Center
Los Angeles, California, U.S.A.

July 13-15, 2007
Star Wars Celebration Europe
ExCel Exhibition Center
London, England

July 25-29, 2007
San Diego Comic-Con
San Diego Convention Center
San Diego, California, U.S.A.

July 19-21 2008
Star Wars Celebration Japan
Makuhari-Messe Convention Center
Tokyo, Japan

February 4, 2009
Lucasfilm Annual Employee Meeting
Marin County Civic Center
San Rafael, California, U.S.A.

Feb 28-May 3, 2009
Andy Warhol Museum
Pittsburgh, Pennsylvania, U.S.A.

June 11-20, 2010
Freeman's Los Angeles Auction Preview
Los Angeles, California, U.S.A.

July 5-9, 2010
The Vader Project Auction Exhibition
Freeman's Auction House
Philadelphia, Pennsylvania, U.S.A.

July 10, 2010
The Vader Project Auction
Freeman's Auction House
Philadelphia, Pennsylvania, U.S.A.

Hi-res images available upon request.

Facebook: www.facebook.com/pages/The-Vader-Project/79133235168?ref=ts

DKE Toys Flickr: www.flickr.com/photos/15785058@N00/collections/72157624303828394/

Twitter: twitter.com/SarahJo


DKE Toys
www.thevaderproject.com
vaderproject [at] gmail.com
www.dketoys.com
T: 818-765-3500